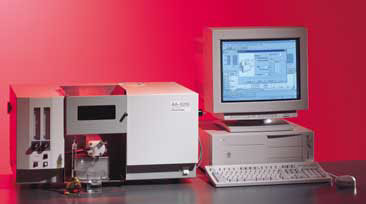 Shimadzu's new double beam AA-6200 atomic absorption spectrophotometer recombines high performance and affordability. The double beam system provides the superior baseline stability expected from high performance optical systems at an affordable price. Use of WindowsTM 95 and AtomicA's software Wizard function provides easy operation for system control and data processing. The AA-6200 uses the least linear bench space of any atomic absorption spectrophotometer in the world. In spite of its compactness, the performance and capability is superior. In fact, the AA-6200 outperforms other atomic absorption instruments many times its physical size.
Atomic Absorption Spectrophotometer AA-6200
Optics
Double Beam (chopper mirror)
Monochromator
aberration corrected Czerny-Turner monochromator

Holographic grating (1,600 lines/mm)
Wavelength range
190-900 nm

Automated wavelength selection
Slit
0.2nm, 0.7 nm Manual setting
Background Correction
D2-Lamp method
Lamp Turret
2-lamps simultaneously lit (manual turret)
Lamp Mode
Emission, Non-BGC, BGC-D2
Frequency
100Hz
Nebulizer
Nebulizer integrated impact bead and jacket tip

Pt/Ir capillary
Chamber
Polypropylene
Burner
Fixed back/forward position and burner height

(Simply switching of Air/C2H2 and N2O/ C2H2 burner)

Titanium 10cm slot burner (Optional high temperature burner)
Gas Control
Manual setting of flow rate

Automatic Air/ N2O switching system
Safety
Gas pressure monitoring to prevent flashback

Automatic flame monitoring

Safety interlock for misuse of burner

Automatic flame extinguish when power failure
Ignition
Push ignite button
Software
Software based on MS-WindowsTM
Dimension and weight
W690 x D425 x H370 mm, 38 kg
Power requirements
AC220V, 230V, 50/60Hz, 300 VA

(Requires transformer for AC115V)

(Certification of CE marking)
Ambient temperature and humidity range
Temperature: 10~35°C
Humidity: 45~80% (but less than 70% if temperature is over 30°C
Standard accessories
Burner Head of 10cm slot. Nebulizer assembly. Deuterium lamp. Drain tube PTFE tube for sample suction. Hose assembly for Air. Hose assembly for C2H2. Hose band RS-232C connection cable (9P-9P). AC cable for 220, 230V
Personal Computer requirements
Personal Computer requirements
Operating environment: MS-WindowsTM 95 or MS-WindowsTM Ver3.1
CPU: 486DX-66 or Higher (In case of MS-WindowsTM3.1), Pentium-75 or Higher (In case of MS-WindowsTM 95)
RAM: 16MB or higher
CRT: VGA or Higher
Hard disk: 120 Mb or larger
3.5" Floppy disk drive: One or more units
This page may contain references to products that are not available in your country.
Please contact us to check the availability of these products in your country.