Maximum reliability and stability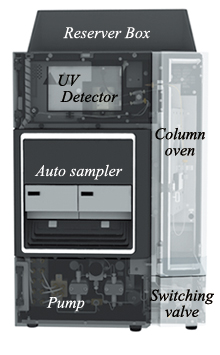 Refined Usability
Control panel with a color LCD touch panel allows anyone to operate the instrument, regardless of experience level. Easily and reliably perform routine maintenance following onscreen instructions.
Excellent Baseline Stability Unaffected by Circumstances
The UV/VIS detector and the PDA detector employ dual-temperature control (TC-Optics and flow cell) and provide measurements with a stable baseline hardly affected by room temperature fluctuation.
Autosampler Enhances Data Reliability
Excellent reproducibility for low injection volume less than 1 μL, wide range of linearity range and ultra-low carryover (<0.0025%) improve the reliability of data, especially for analyses of precious biological samples and direct analyses of concentrated samples.
Large Capacity Column Oven Supports up to 85°C
The Forced-air circulation method enhances column temperature stability. Maximum operating temperature of 85°C allows high-temperature analyses such as sugar analysis. Moreover, three 300 mm long columns or six 100 mm long columns can be accommodated.
Quaternary Solvent Delivery Unit
A 10 μL micro plunger ensures accurate quaternary gradient delivery. Optional reservoir switching valve further extends the solvent selection to seven so that the solvent for the flow path rinsing can be set.
Excellent Baseline Stability: Dual-Temp Control with TC-Optics and Flow Cells
In addition to the temperature control function in flow cells, the i-Series employs new temperature control technology for detector optical systems, known as TC-Optics (Temperature Controlled Optics). Measurement with a stable baseline, hardly affected by room temperature fluctuation, ensures high precision of validation and quantitation tests on trace components.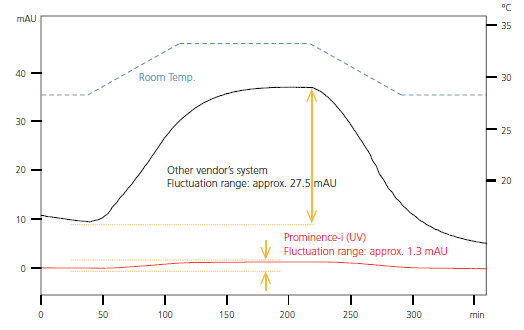 Assists Analysis over Wide Concentration Range: Linearity and Reproducibility of Injection Volume
The i-Series provides highly precise data in micro volume injections of 1 μL or less. This system allows the direct injection of the concentrated samples without dilution to save the preprocessing operation. In addition, the superior injection volume linearity improves the reliability of data for a wide range of injection volumes.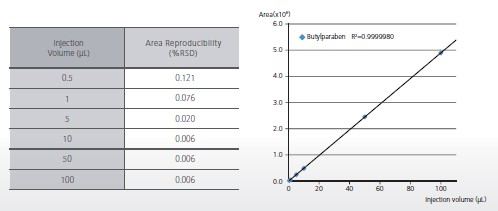 Enhancing Multi-Analyte Processing
When analyzing a large number of analytes, it is crucial to reduce the time between analyses, specifically the time before the next sample injection. With an injection cycle of Ultra-Low Carryover Performance Enables High-Sensitivity Analysis Shimadzu Quality Means Reliability innovative about 14 seconds, the i-Series achieves processing speeds more than twice as fast as previous Shimadzu systems, and almost three times faster than other vendors' systems.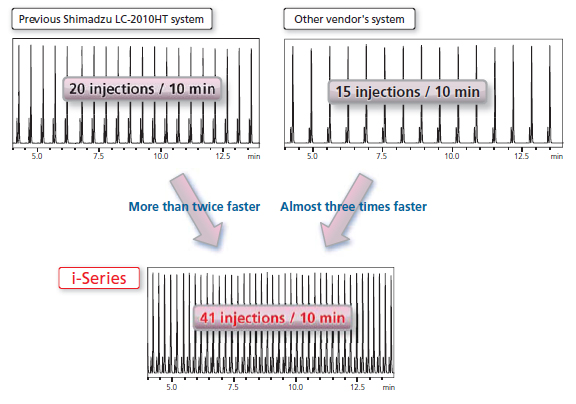 Ultra-Low Carryover Performance Enables High-Sensitivity Analysis
Due to Shimadzu's proprietary flow channel design, carryover effects from residual samples are reduced to nearly zero. The carryover specification has been improved to 0.0025% , thereby providing highly precise quantitative performance when analyzing complex sample.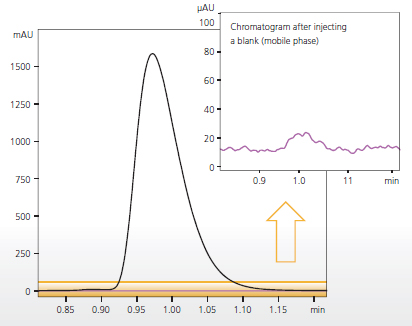 For Research Use Only. Not for use in diagnostic procedures.
This page may contain references to products that are not available in your country. Please contact us to check the availability of these products in your country.