Open Access Sample Logging for Triple Quadrupole LCMS
With sample logging now made easy, Quan Solution allows users unfamiliar with LCMS software the capability to perform LC/MS/MS analysis using pre-set methods. Simple screens allow users to access the power of a triple quadrupole LCMS without extensive training.
Receive Analytical Results by Email
Upon completion of analysis, an e-mail will be sent by the software. The e-mail will include the quantitative results report as a PDF attachment, enabling it to be checked in the office.
Walk-Up Access for Multiple Users and Multiple Methods
Adding the 6-MTP capacity SIL-30ACMP autosampler is the ideal way to share a single LC/MS/MS system between multiple analysts. Troublesome user management is not required to share the system; simply register the user names and e-mail addresses. Furthermore, if column switching or mobile phase switching via the Nexera Quaternary system is incorporated, a variety of quantitative analyses can be performed with a single system.
View System Usage at a Glance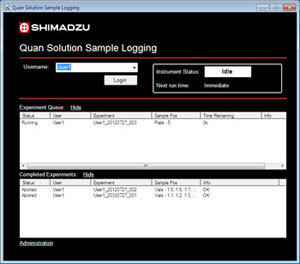 Samples queued for analysis can be viewed in the sample registration window.
Sample Queue Editing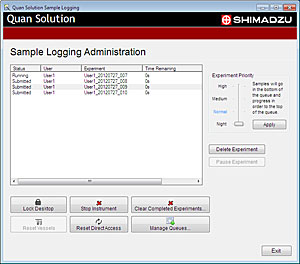 Typically, analyses are executed in the sequence in which they are entered, but an administrator can change this. It is easy to apportion system usage so that large quantity analyses are performed overnight, and small quantity analyses are performed during the day.
Combination with LC/MS/MS Method Packages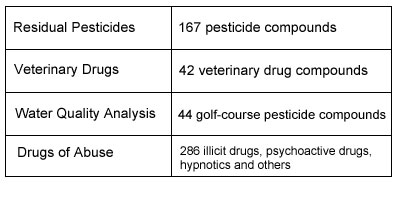 Each method package includes method files that list MS analytical parameters, LC separation conditions, and retention time information for each compound as well as report files, which significantly shorten method development time.
This page may contain references to products that are not available in your country.
Please contact us to check the availability of these products in your country.