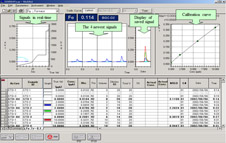 The "WizAArd" software is much easier to understand and use, with a parameter editing function that enables conditions to be changed rapidly and comprehensive data processing functions.
It features:
Wizard function to make setting conditions easy - even for beginners.
Basic setting are completed by setting the measurement conditions in accordance with the WizAArd
Parameter editing function - enables conditions to be changed rapidly
Comprehensive data processing functions
"At-a-Glance" measurement screen
High Level of Security Functions
Manage using login ID names and passwords
Manage usage authority restrictions according to user level
Electronic signatures and audit trail functions have been equipped as standard
QA/QC functionality as required by the U.S. Environmental Protection Agency (EPA) has been improved
Hardware validation software is also standard equipment
Connection to CLASS-Agent permits effective database management for large amounts of data
For Research Use Only. Not for use in diagnostic procedures.