The Energy Dispersive X-ray Fluorescence Spectrometer EDX-7000/8000 measures the energy (keV) and intensity of the generated fluorescent X-rays to determine the type and content of the elements comprising a sample. It is applied for non-destructive elemental analysis of solid, powder, and liquid samples. It is widely used by electronics and automobile manufacturers around the world.

Principle and Features of X-ray Fluorescence Spectrometry
BfS Type approval gives EDX-7000P/8000P plug & play status
The EDX-7000P and the EDX-8000P Energy Dispersive X-ray Fluorescence Spectrometers passed the BfS type approval, the safety standards prescribed by the German "Bundesanstalt für Strahlenschutz" BfS (Federal Institute for Radiation Safety).
2014 IBO Industrial Design Awards
Shimadzu EDX-7000/8000 Energy Dispersive X-ray Fluorescence Spectrometer received Instrument Business Outlook's 2014 Gold Award for analytical instrument industrial design.
More information Download (pdf)
(670KB) NEW
Principle of Fluorescent X-ray Generation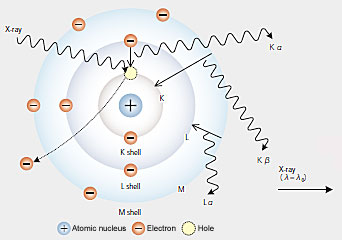 When a sample is irradiated with X-rays from an X-ray tube, the atoms in the sample generate unique X-rays that are emitted from the sample. Such X-rays are known as "fluorescent X-rays" and they have a unique wavelength and energy that is characteristic of each element that generates them. Consequently, qualitative analysis can be performed by investigating the wavelengths of the X-rays. As the fluorescent X-ray intensity is a function of the concentration, quantitative analysis is also possible by measuring the amount of X-rays at the wavelength specific to each element.
Supports Various Applications in Many Fields
■ Electrical/electronic materials
RoHS and halogen screening
Thin-film analysis for semiconductors, discs, liquid crystals, and solar cells
■ Automobiles and machinery
ELV hazardous element screening
Composition analysis, plating thickness measurement, and chemical conversion coating film weight measurement for machine parts
■ Ferrous/non-ferrous metals
Main component analysis and impurity analysis of raw materials, alloys, solder, and precious metals
Composition analysis of slag
■ Mining
Grade analysis for mineral processing
■ Ceramics
Analysis of ceramics, cement, glass, bricks, and clay
■ Oil and petrochemicals
Analysis of sulfur in oil
Analysis of additive elements and mixed elements in lubricating oil
■ Chemicals
Analysis of products and organic/inorganic raw materials
Analysis of catalysts, pigments, paints, rubber, and plastics
■ Environment
Analysis of soil, effluent, combustion ash, filters, and fine particulate matter
■ Pharmaceuticals
Analysis of residual catalyst during synthesis
Analysis of impurities and foreign matter in active pharmaceutical ingredients
■ Agriculture and foods
Analysis of soil, fertilizer, and plants
Analysis of raw ingredients, control of added elements, and analysis of foreign matter in foods
■ Other
Composition analysis of archeological samples and precious stones, analysis of toxic heavy metals in toys and everyday goods
Functional Design
Large Sample Chamber with Small Footprint
Installed width is 20% smaller than the previous instrument due to its compact body size. The EDX-7000/8000 can accommodate samples up to a maximum size of W300 x D275 x approx. H100 mm.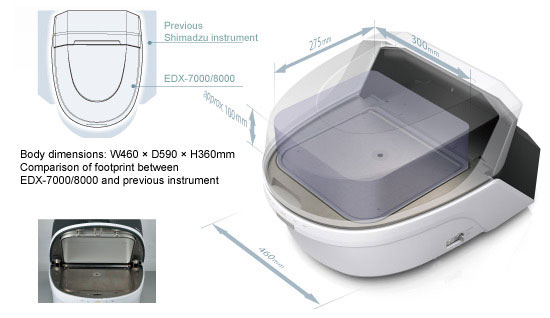 High-Visibility LED Lamp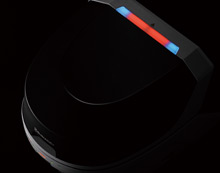 When X-rays are generated, an X-ray indicator at the rear of the instrument and an X-RAYS ON lamp at the front turn on, so that the instrument status can be monitored even from a distance.
PCEDX Navi Software Allows Easy Operation from the Start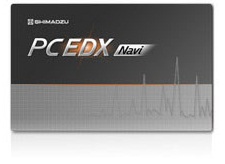 PCEDX Navi software is designed to simplify X-ray fluorescence spectrometry for beginners, while providing the feature set and capabilities demanded by more experienced users. The straightforward user interface offers intuitive operation and provides a convenient operating environment for beginners and experts alike.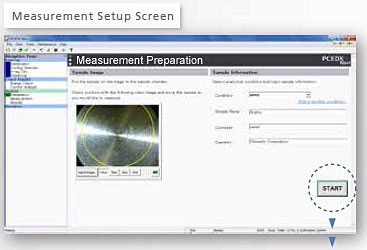 Simple Screen Layout
Sample image display, analysis conditions selection, and sample name input on the same screen.
Collimator Switching from the Measurement Screen
Change the collimator diameter while observing the sample image. The selected diameter is indicated by a yellow circle.
Automatic Storage of Sample Images
The sample image is loaded automatically when the measurement starts. Sample images are saved with a link to the data file.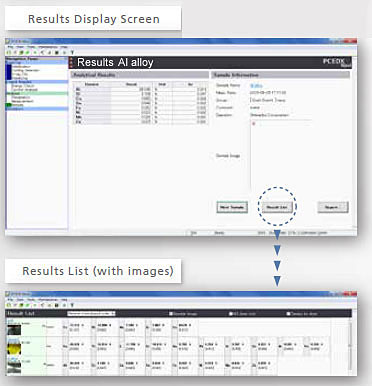 Once the measurement is complete, the element names, concentrations, 3σ (measurement variance) are displayed, together with the sample image, in an easy-to-understand layout. Display the result list and individual report with a single mouse click.
Support for Continuous Measurements
PCEDX Navi supports measurements using the optional turret. Switch between the sample image screen and sample positioning screen.
For Research Use Only. Not for use in diagnostic procedures.
This page may contain references to products that are not available in your country.
Please contact us to check the availability of these products in your country.