UFscanning
TM
Simultaneous, Highly Reliable Quantitative and Qualitative Analysis
■ High-Sensitivity & High-Speed Scanning at 30,000 u/sec
Simultaneous Quantitative and Qualitative Analysis Simultaneous High-Speed Screening of 12 Toxicological Drugs
The LCMS-8050 is capable of simultaneously obtaining both qualitative and quantitative information in a single analysis. Acquisition occurs so rapidly that MS/MS scans and MRM measurements can be performed concurrently while maintaining quantitative accuracy. MS/MS scans are usable and reliable because even at 30,000 u/sec, Shimadzu uses a 0.1 u scan step.

■ Maintain Sensitivity and Mass Accuracy Even at 30,000 u/sec
By controlling the voltage applied to the quadrupoles according to scan speed and m/z, the LCMS-8050 achieves superior ion transmission at any scan speed. And because Shimadzu maintains data collection at 0.1 u intervals, high-quality mass spectra are obtained without loss of sensitivity or mass accuracy.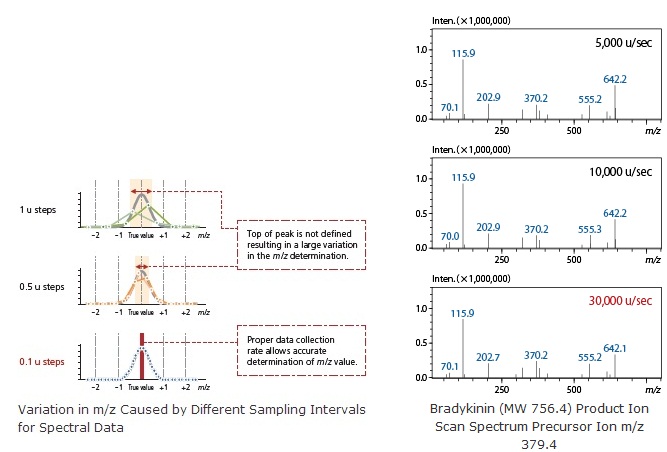 ■ Efficient Qualitative Analysis Using Synchronized Survey Scan
The Synchronized Survey Scan (SSS) function allows MRM acquisition to be combined with a variety of other scan modes. It is extremely useful for obtaining more detailed qualitative information on components detected during multi-analyte quantitative acquisition.

One thousand events can be registered within a single method. It allows setting of optimum collision energies for each component in order to obtain only the required qualitative information.
This page may contain references to products that are not available in your country.
Please contact us to check the availability of these products in your country.