Ultrasonic Fatigue Testing System
With the ultrasonic fatigue testing system USF-2000A in standard- or mean stress configuration fatigue tests in the Very-High-Cycle-Fatigue (VHCF) range can be performed time- and cost-efficiently with the frequency 20 kHz. Results about the fatigue behaviour and the fatigue strength at 107 cycles will be available after ca. 10 minutes and at 1010 cycles after ca. 6 days.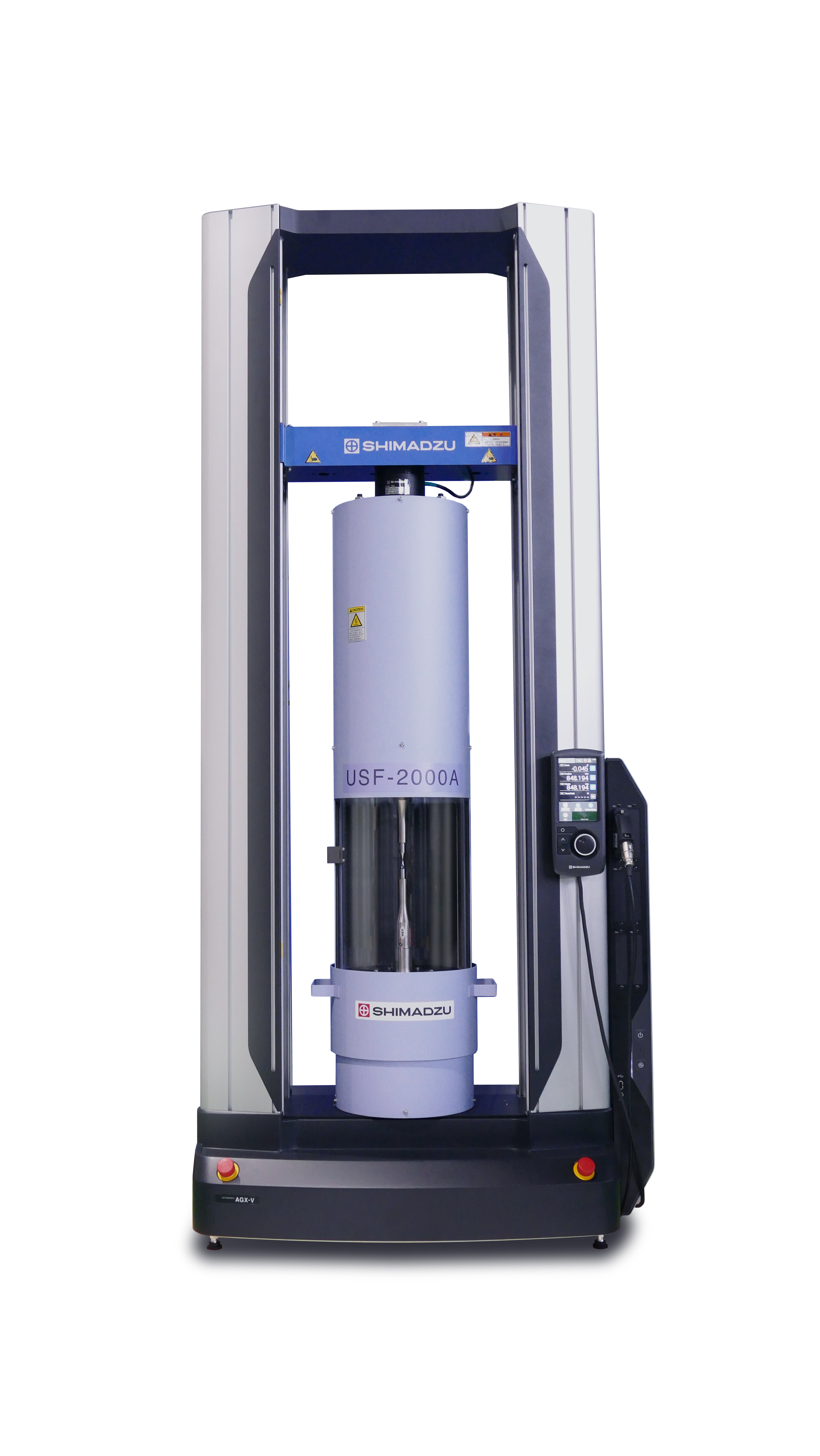 [Features]
Economic determination of the fatigue behaviour and the fatigue strength, i.e. usage for variety inspection in research and development or quality control in mass production
Accelerated evaluation of the performance capability at 20 kHz, even tests until 1010 cycles are completed after ca. 6 days
High-precision stress- and amplitude control for excellent result quality
Windows software package includes all necessary actions from specimen design (without FEM skills) until user-friendly test execution and evaluation
Compact system design for various installation possibilities without necessity of a lab infrastructure (cooling water, hydraulic oil etc.)
Mean stress loading is available as option: More information
[Complete service life of...]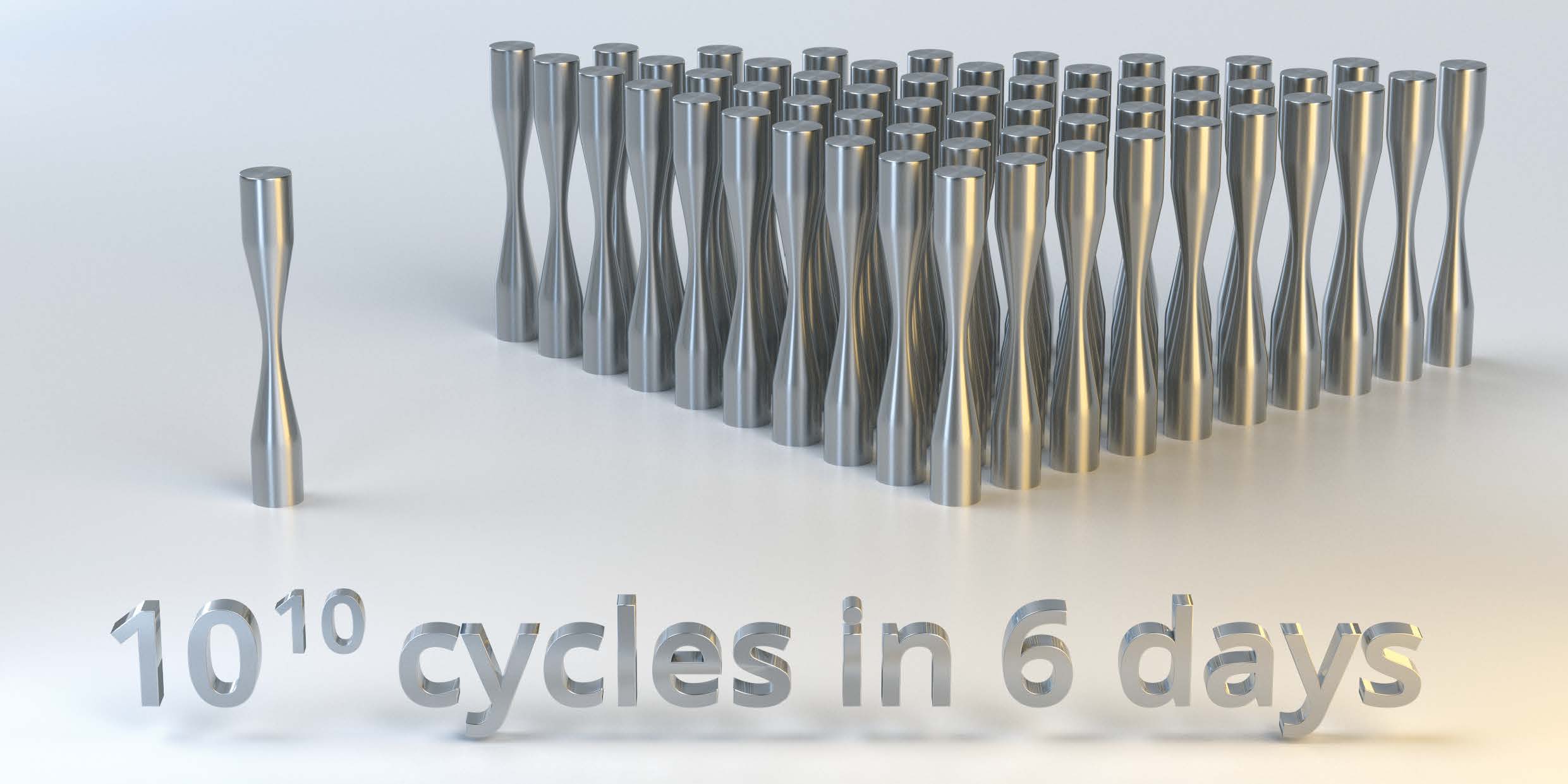 [System Configuration]
Name
Description
Main Unit
Ultrasonic Fatigue Testing Machine
USF-2000 Standard Configuration
Consists of:
1) Main unit
2) Ultrasonic resonator system
3) Personal Computer
4) Software
Sensor

Stroke Sensor, USF-2000

Displacement measuring Sensor (eddy current type displacement sensor, resolution 0.5 µm)
Calibrator
Displacement sensor calibrator (High-Performance Micrometer CDE-25 C1)
Displacement Recorder
Displacement recorder, High speed data logger for waveform capture (Minimum sampling speed 1Mhz), Measurement laptop computer (not included in the delivery)
[Specifications]
Test frequency
20 kHz ±500 Hz (recommended test range 20 kHz ±30 Hz) * The test frequency is determined by the resonance frequency of the specimen.
Nominal Stress
100MPa – 1200MPa
Test piece end face amplitude
±10 to ±50 µm
Test stress range
Stress when the specimen undergoes ±10 to ±50 µm displacement *The stress value depends on the specimen shape and physical properties.
Power requirements

200 V 1-phase: 3.5 kVA (ultrasonic fatigue testing system)
100 V 1-phase: 1 kVA (including PC, displacement recorder, air drier)

Mean stress max 1.5 kN tensile force can be applied to the specimen during the test
[Material Classes]
| | |
| --- | --- |
| Testable materials | Materials that can resonate at 20 kHz, and that generate little heat when resonating (such as high-strength steel, duralumin, titanium alloys, aluminum) |
[Application Areas]
Determination of the fatigue behaviour and the fatigue strength in the VHCF-range
* Appearance and specifications are subject to change without notice.
This page may contain references to products that are not available in your country.
Please contact us to check the availability of these products in your country.